NETU
She Male Samba Mania 44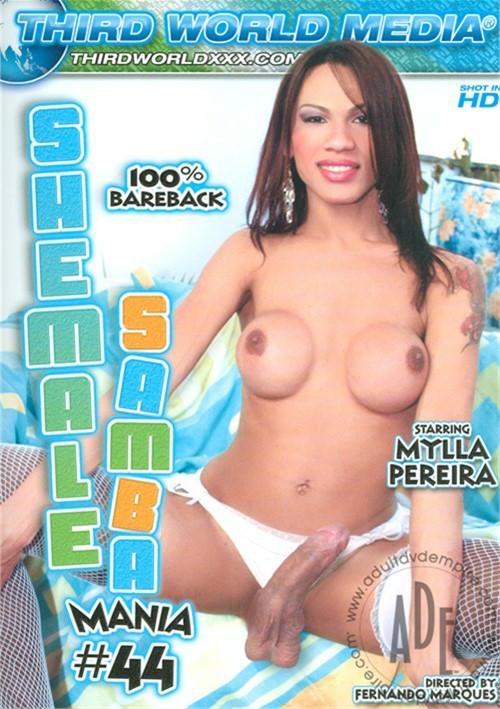 views
Nicoly is a sweet and sexy brunette tranny with a super thick booty and big round tits that are ready to pop. Below her giant boobs is a tight mid section which leads directly to the meaty surprise hiding in wait between her legs. Her sack dangles as her foreskin capped sirloin gets ready to be served. Her man friend wastes little time getting it plump, hot and ready to jab at the back of his throat and later on deep inside his shit chute. He fucks her first, but she handles him even better, shredding his chamber as her thick butt cheeks lead the charge toward a fat scattering of Brazilian made salty-clear-steak-sauce on his butt cheeks. He finishes her off with a back full of cum that coats her from top to bottom. They shower together and clean things up a bit.
Vivi has dark skin and exotic features. Appetizer her long dark hair is for starters with her big breasts and hard body up next. But her main dish stays warm until serving between her two legs. From behind it is her thick Brazilian rump, but up front it's her stealthy Brazilian sausage that makes men beg for more. Her cock stands tall and proud and has a prominent leftward lean to it. It jams Erick's mouth and throat before introducing itself to his hungry bottom. She taps it hard and in multiple positions too, as she massages Erick's prostate with her wang. She gets some of the same in her ass, but only harder and faster than she gave it. Her no-fat Brazilian phallus stays stiff as it rockets off a tiny shot, before Erick lands his special sauce all over her tan buttocks. They shower together and say goodbye.
Jade has a slightly manly face but the rest of her is pretty much all female. Long hair, long legs, braces, giant tits and a juicy ass are her most obvious girly features, but what one may overlook is the massive dark skinned-pink tipped Brazilian Boa that hibernates between her inner thighs. She slaps it around to wake it up a bit and then feeds large chunks to our man's willing mouth. More willing than his mouth is his ass, which invites her inside for some tunneling. She digs hard and deep and strokes his ass with a passion. He gets his turn on her as well, giving her a fat shaft to anally feed on and a giant cum shot in her mouth for protein. She works her whanker to a milky orgasm on her own stomach, before showering clean.
Mylla is our cover girl with a ripped body, 6 pack abs, well defined shoulders and giant barbell waiting to tear through her underwear and shred any anus in close vicinity. She is hard and healthy and she offers up much more than a four course Brazilian supper for our guy. Her cock alone is enough to fill someone up orally but when you're getting it anally as well, there is more than the average guy can handle. She skillfully gobbles up our guy's penis too, blazing through it like a tiny treat for her massive appetite. She ass gobbles his stiffie as her hips go on auto and her hard wang shakes, twists and swings from side to side. She hard stuffs his oven with her 11 inch all-u-can eat special and gives him a free custard desert served inside his still gaping hole. He finishes her off with a giant mouthful that bubbles, dribbles and drips down her face. They both shower together.